Benefits:
A special blend, prepared by Dr. Keyzom Bhutti.
The oil is very effective against stress and strain, reduces excess body fat, and improves blood circulation. It also is helpful for sound sleep, since it promotes relaxation and the free flow of energies. This oil is balancing in the condition where there are unbalanced physical & mental energies, and improves memory.
This preparation is very useful for a variety of illnesses where there are blockages in energy, including arthritis, rheumatic conditions, strains, chronic pain and fatigue. The Tibetan practitioner, in conjunction, also uses it with their extensive pharmacopoeia for more severe illnesses.
Sunflower oil
Nutmeg
Clove
Smaller Cardamon
Greater Cardamon
Red sandalwood
White sandalwood
Chebulic myrobalan
Beleric myrobalan
Emblic myrobalan
Iris germanica
Hog plum
Saffron
White sedum
Galangale/Ginger lily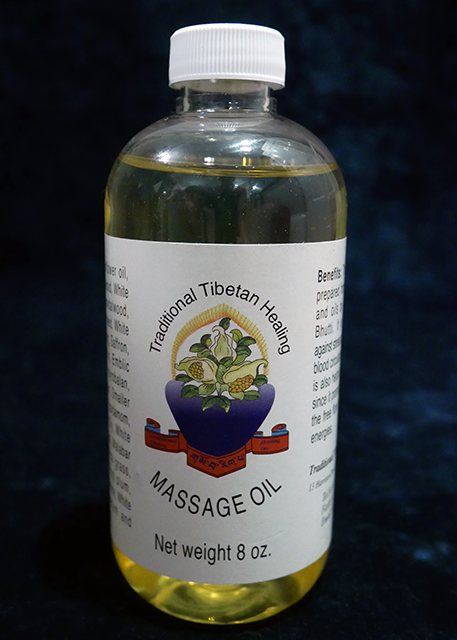 Heart-leaved moonseed
Costus root
Cumin
Black eaglewood
White eaglewood
Picrorrhiza grass
Malabar nut tree
Indian gentian
Nepalese gentian
Saxifrage
Blue-thorned poppy
Pomegranate
Brown sedum
One 8 oz bottle is $18.00 plus $8 shipping. We offer shipping discounts on additional bottles purchased at the same time.